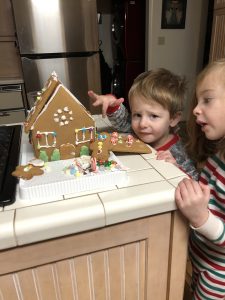 Happy Holidays! I hope your animals were better behaved than mine in 2019. My two cats destroyed our Gingerbread House on Christmas Eve, much to the disappointment of my kids. Luckily, the chocolate decorations were not toxic to the cats. And, gratefully, the cats didn't knock any pieces down to my two dogs who were eagerly waiting for their share on the floor. My hope is that the chaos of living with "6 young animals" in my home has brought me more patience, humility, and understanding as a veterinarian.
As we approach the new year and new decade, I wanted to help you ring in 2020 with a clean mouth for your pet. Despite candy and sweet treat ingestions, accidental or otherwise, animals rarely get cavities. Because animals do not brush their teeth regularly, plaque accumulates on the surface of their teeth and can mineralize into hard tartar. This tartar harbors bacteria that contributes to infection and inflammation of the gums, tooth roots, and supporting jawbone. Tartar can only be removed by a thorough dental cleaning of the teeth above and below the gum line.
We are offering 15% off dental cleanings in January 2020 to help your pet have a fresh, healthy mouth for the year to come.
Best Wishes for a Happy 2020!
Dr. Meghan Ryan, Dr. Mollie Fox, and the staff at Lexington Animal Hospital