Happy Valentine's Day! I hope your pets shared some extra love with you today.
I would like to highlight Dr. Mollie today. She has been working at LAH for the last 4 years, and regularly works every Monday and Wednesday mornings. Dr. Mollie has also helped out on other occasions, such as these last 2 days while I've been recovering from ankle surgery. I really appreciate her care for our animals while I'm away. Below are some thoughts from Dr. Mollie about her philosophy as a veterinarian:
"The story that my parents tell is that I wanted to be a vet from the time that I knew that there was such a thing when I was about 3.  I remember when I was around 10 painstakingly training my two cats, Russell and Lisa (both boys!) how to sit, stay, and jump through my mom's quilting hoop.  And I remember the feeling of panic I had a couple years later when Lisa was ill after a bout with cystitis and the sense of relief when the vet we took him to treated him with compassion and made him (and me) feel better.
Those are the thoughts I try to carry with me as I see patients throughout the day.  It would be easy to get lost in the chaos of the day and forget that every pet I see is precious to someone.  However, my experiences with my own pets keep me grounded and I do my best to give advice and guidance as if their pet were my own.  I pride myself on being honest, even when the answer isn't what someone wants to hear, and if I don't know the answer, I will try my hardest to find someone who does."
– Dr. Mollie Fox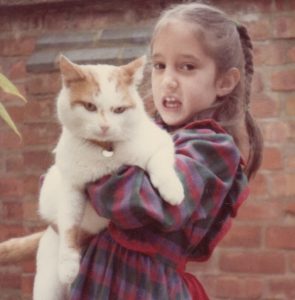 Dr. Mollie, age 5, with her cat Lisa