2018 Rockbridge Community Festival
We had a great time at the Rockbridge Community Festival. Thank you to all who stopped by to enter our raffle, get a paw print temporary tattoo, a face painted, or a treat for you and your pup! We look forward to attending next year.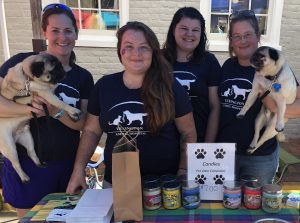 Dr. Ryan, Jesse, Caitlin, and Heather at the Community Festival along with pugs Finn & Gil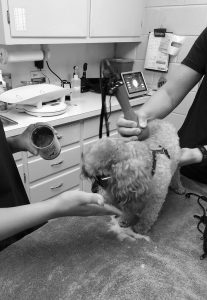 Laser therapy patient Matilda enjoys eating canned food while wearing protective eye 'Doggles'. Matilda's severe back pain resolved in 3 sessions.
Challenges and Advances in Treating Chronic Pain in Veterinary Patients
With the continued opioid crisis across America, veterinarians, like physicians, are seeking different and new modalities to help manage chronic pain in our patients. Chronic pain is most commonly seen in our older pets suffering from arthritis, back pain, and dental disease. Tramadol and gabapentin are controlled substances that have historically been used to manage chronic pain. Due to the potential for these substances to be abused by humans, tramadol and gabapentin are becoming harder and harder to access for our veterinary patients. As many animals either do not tolerate a non-steroidal anti-inflammatory pain medication (NSAIDs), or find that an NSAID alone does not provide adequate pain control, the increasingly restricted access to drugs like gabapentin and tramadol is becoming problematic.
Thankfully, there are many other new therapies that can help repair inflamed and painful tissue. Patients benefit from supplements containing the building blocks of healthy cartilage- glucosamine, chrondroitin, MSM, and glycosaminoglycans. Fish oil supplements containing EPA and DHA fight inflammation and help reduce swelling. And, UC-II supplements targets an animal's own overactive immune system that is attacking inflamed and damaged joints and calms down inflammation and relieves pain.
Lastly, we are excited to announce that we have a new Class IV Therapy Laser. In many studies, therapy lasers have been proven to:
1) alleviate pain and inflammation
2) reduce swelling, bruising, and scar tissue formation
3) stimulate nerve regeneration and cells involved in tissue repair
How does it work: the laser releases photons of light that penetrate deeply into tissue. The photons stimulate damaged cells to increase their metabolism so they can take up more nutrients and get rid of waste more quickly. Laser light help also helps recruit new blood capillaries to improve blood supply to damaged tissue. The light stimulates the cells that produce collagen which are crucial for wound healing. And lastly, the photons stimulate the release of endorphins to relieve pain immediately.
For the last month, we have been using the laser on all of our post surgical patients, and it has been amazing to see how much more comfortable the animals are waking up after anesthesia. We have also used the laser to treat chronic, nonhealing or infected wounds, hot spots, ear infections, slipped disks, and arthritis pain. We have seen fantastic results.
If you are concerned about your pet's comfort level, please ask us about options to manage their pain better